Filters
Host Donations (high to low)
Newest First
Price (low to high)
Price (high to low)
Rating
Number of Reviews
Tailor-Made Tours
Can't find what you're looking for? We can plan a custom-made food experience or itinerary just for you.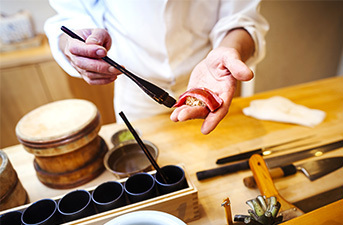 Best Cooking Classes and Workshops in Japan
Have a passion for cooking? With a variety of cooking classes in Japan, you can learn how to cook Japanese food and impress your friends and family back home. Japanese cuisine, known as "washoku" in Japanese, is one of the healthiest in the world—which explains why Japan is known for having the highest rate of centenarians in the world. Find out the secrets to longevity during a cooking class in Japan while you learn to cook Japanese food with a local cooking instructor. Indulge yourself and learn how to make homemade Japanese ramen and sweets. You're on vacation in Japan, so treat yourself!
You can find cooking classes in Tokyo, Osaka, Kyoto, and areas all across Japan. With gluten-free, halal, kosher, vegetarian, and vegan cooking classes in Japan, there are options for everyone. From family-friendly cooking lessons to intensive culinary workshops, all skill levels can find a Japanese cooking class on byFood. Learn how to make soba or udon noodles from scratch, try your hand at sushi cooking classes, or join a wagashi cooking class to make traditional Japanese sweets. Experience Japan in a new way, by making fun memories during a cooking workshop while learning skills that you can take home with you.