Filters
Host Donations (high to low)
Newest First
Price (low to high)
Price (high to low)
Rating
Number of Reviews
Tailor-Made Tours
Can't find what you're looking for? We can plan a custom-made food experience or itinerary just for you.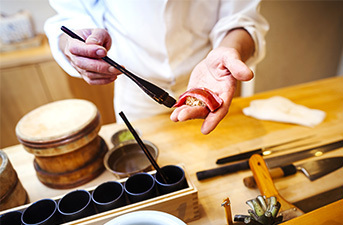 Find The Unique Dining Experiences in Japan
Japan is among the countries with the most Michelin stars in the world, and for good reason. Japanese cuisine is immensely diverse, encompassing a huge range of cuisines based on the region, occasion, and season. For example, there are deeply traditional and historic cuisines such as "kaiseki ryori," the sophisticated multi-course meal; and "shojin ryori," the humble Buddhist vegetarian fare. Dining experiences in Japan also vary by region, with each prefecture being home to its own specialty dishes and ingredients. Prized wagyu beef comes not just from Kobe, but also from Omi in Shiga prefecture and Matsusaka in Mie prefecture. In mountainous Yamagata, wild vegetables are harvested and eaten in a special regional hotpot dish called "sansai nabe." In rural Japan, you may find fresh local produce prepared simply, while you may also find a variety of upscale and themed dining experiences in Japan, in urban areas like Tokyo and Osaka.
From intimate meals prepared by your own personal chef to dinner-and-a-show and farm-to-table meals, byFood has a wide range of dining experiences in Japan. Food is a gateway into culture, and a wonderful way to connect with people and learn. And who better to learn from than chefs and locals? From
gluten-free dining experiences
to
vegan dining experiences
, byFood has it all. So even if you're plant-based, halal, kosher, or have a gluten allergy in Japan, you can still find delicious culinary experiences that suit your diet. Groups, couples, and solo travelers, can all experience Japanese culture through food.