Filters
Host Donations (high to low)
Newest First
Price (low to high)
Price (high to low)
Rating
Number of Reviews
Tailor-Made Tours
Can't find what you're looking for? We can plan a custom-made food experience or itinerary just for you.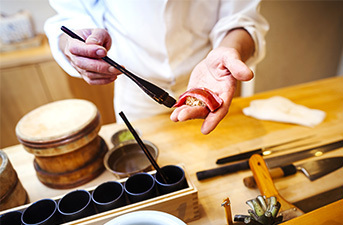 For gourmands looking to truly indulge, Japan offers some outstanding opportunities. Bejeweled with more Michelin-starred cities than any other country on earth, it's arguably the best place on earth to splash out on some premium fine dining. Centuries of home-grown tradition has gone into developing the unique culinary culture of Japan, while in more modern times the country's adventurous chefs have spread across the globe to master cuisines from far and wide.
In short, you're not short options for premium dining in Japan. You could take it ultra-traditional with a high-class ryōtei meal, where you'll be served a traditional kaiseki multi-course meal in a private tatami mat room, looking out over serene private gardens. Or if you're looking for something a little more modern, why not try the wagyu beef steakhouses of Ginza, or outlets from some of the biggest names in European gastronomy like Joël Robuchon Tokyo.
Whatever you're looking for, Japan has an outstanding lineup of sushi savants, wagyu wizards, and international experts on standby to serve your every need. With byFoods range of premium dining restaurants in Japan, you'll be able to land a seat at their tables with just a few clicks.