Filters
Host Donations (high to low)
Newest First
Price (low to high)
Price (high to low)
Rating
Number of Reviews
Tailor-Made Tours
Can't find what you're looking for? We can plan a custom-made food experience or itinerary just for you.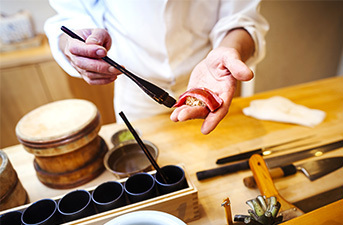 Best Food and Drink Tasting Experiences in Japan
Want to become an expert on Japanese sake, whisky, tea, and more? These tastings in Japan will link you to specialists in their fields, so you can get insider tips and info about the world of Japanese beverages. Japanese sake enthusiasts can tour sake breweries, enjoy tastings of raw sake, and indulge in pairings of sake and sushi; while tea lovers can find zen in a cup of matcha and a bite of Japanese wagashi sweets. Book tastings in Japan and learn all about your favorite drinks, like sake and tea, which have been a vital part of Japanese culture for centuries and are still significant today. For example, matcha tea plays the starring role in the Japanese tea ceremony, a tradition that has its roots in Zen Buddhism and Japanese hospitality. Meanwhile, amazake, a fermented rice drink, is consumed during the Japanese New Year. During your trip, be sure to join a tasting in Japan and get a taste of the history and culture of the land of the rising sun.