Tailor-Made Tours
Can't find what you're looking for? We can plan a custom-made food experience or itinerary just for you.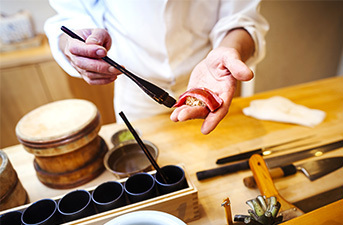 Japanese bento boxes are said to have their roots back in the country's feudal era, when the warlord Oda Nobunaga took to feeding his troops boxed meals as a matter of convenience. Nowadays, far from being filled with utilitarian army fare, bento boxes are now a minor decorative art! Everyone from office workers to school kids is in on it, carrying off their carefully-arranged boxes of traditional Japanese cuisine to see them through another busy day.
Meanwhile, in modern Japanese bento restaurants, the chefs compete to present the most colorful range of seasonal treats in beautiful lacquerware boxes. With byFood's Japanese restaurant reservation service, we'll introduce you to the best of these inventive bento eateries, and help you secure your seat with just a few clicks and no Japanese required.
Be careful though — after you've savored a beautiful lunch box filled with delicious traditional Japanese foods, a sandwich in a brown paper bag just won't cut it any more! You'll have to learn how to make your own Japanese bento box to get your fix back home.