Food for Happiness
When you book an experience, make a paid restaurant reservation,
or place an e-commerce order, byFood donates school meals to children in need.
Up until now
Since 2017, byFood and Tablecross Inc. have collectively raised funds to help children in developing countries, supporting NPOs that provide them with necessities like nutritious meals and educational support.
The equivalent of
0
school meals
have been donated as of
September 2023
Children around the world need your help!
According to The United Nations Children's Fund
736 Million people live in extreme poverty.
Of them, half are children under 18 years old.
90Million children under 5 years old are
dangerously underweight and malnourished.
69Million primary-aged children do not attend school, the majority in sub-Saharan Africa.
103Million children lack basic literacy skills; over
60% of them are girls.
Source: The State of the World's Children 2016, UNICEF
Happiness begins with food!
By providing school meals to children, we give them one less thing to worry about, so they can pursue an education and reach their full potential.
How Food for Happiness Works
For every user who joins an experience, dines at a restaurant, or places an order through byFood's services, 10 school meals will be donated to children in need.
Help Spread Happiness!
Donate directly to reputable charities
Join a volunteer group or start your own
Place a booking or reservation through byFood
Contribute to Food for Happiness
Help children in developing countries by participating in a byFood experience, dining at select restaurants, or placing an e-commerce order. When you book a food experience or place a paid restaurant reservation on the platform, byFood will donate 10 school lunch meals to children in need. Donations will also be made for every order placed on byFood's e-commerce platform. A nutritious meal is the foundation of everything else–from education to poverty alleviation–and can truly be life-changing for a child in need.
Our Founders:
Serkan Toso and Kaoru Joho
Food for Happiness is an initiative created by Serkan Toso, founder of byFood (previously known as "Tokyo by Food"), which originally donated 10 lunch meals to children in Cambodia for every person who participated in a Tokyo by Food experience.

After merging with Japanese restaurant reservation business Tablecross Inc., started by Kaoru Joho, which also aims to feed school children in developing countries while feeding its users, the Food for Happiness project expanded.

Serkan and Kaoru have since worked together with various charitable NGOs and NPOs aiming to end world hunger, build houses for families in need, educate children about nutrition, and support the UN's sustainable development goals.
"When I was in elementary school, just seven years old, I went to Indonesia and I saw street children there. I had never worried about food. In Indonesia, children worry about food, for themselves and for their sisters and brothers."

Kaoru Joho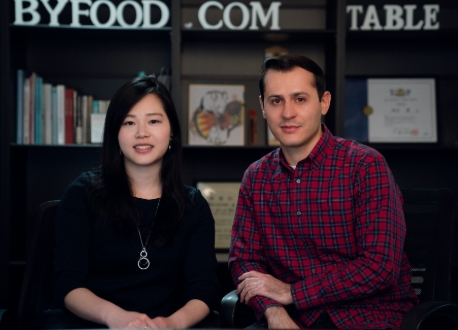 "Both of us really care about children and this United Nations "Zero Hunger" goal, so we want to help that goal and NGOs working towards that goal. We want to encourage people to donate more and care about other people more."

Serkan Toso