Tailor-Made Tours
Can't find what you're looking for? We can plan a custom-made food experience or itinerary just for you.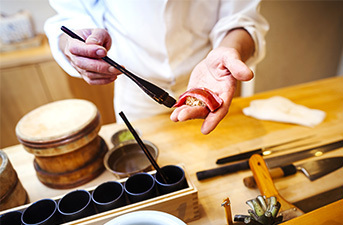 Frequently Asked Questions
How to reserve restaurants in Japan?
You can make a reservation at a restaurant in Japan by direct phone call to the restaurant, or in some cases via direct reservation on their website if available. There also are some online reservation platforms but they are often in Japanese, like the restaurant's website. To avoid the issue of language barriers and time differences, you can place your reservation through a secure platform that helps foreigners to make online reservations, such as byFood. You can use byFood to add filters and narrow down restaurants in Japan, to match the location and food type you are looking for. All you have to do is head to your desired restaurant page and enter your reservation details. If your reservation is successful, you will receive an email confirmation and have your reservation made on your behalf. In the event that the reservation was not successful, you will receive a failed reservation email notification.
Is a reservation required for restaurants in Japan?
Not all restaurants in Japan require a reservation but there are many that do, so this depends on the restaurant. Popular or high-end restaurants generally require a reservation and tend to be totally booked a few months ahead. Some more casual restaurants, bars, and cafes do not require a booking, however if you are with a big group it can be a good idea. Some restaurants like ramen restaurants and izakaya gastropubs do not allow reservations ahead of time.
What is the average cost of a meal at restaurants in Japan?
This depends on the type of restaurant but on average a meal at restaurants in Japan will cost somewhere between 800 yen and 3000 yen for one dish or set meal. More high-class restaurants can start from anywhere between 4000 and 10,000 yen per meal, with more being charged for dinner.
Best Restaurants in Japan
From fresh sushi to crispy tempura, Japan's diverse restaurant scene excites visitors and locals alike with hundreds of thousands of high-quality Japanese restaurants. Beckoning with drool-worthy plastic replicas in their windows, both contemporary and traditional restaurants offer unique flavors and atmospheres. Enter any restaurant in Japan and immediately be welcomed with a hearty "irasshaimase!"
Many Japanese restaurants focus on one signature dish, like Japanese curry restaurants, ramen shops, or speciality restaurants selling yakitori grilled chicken skewers. Restaurants steam with DIY shabu-shabu hotpots while grill-it-yourself teppanyaki hotplate restaurants sizzle! Find tiny family-owned ramen shops hidden in the backstreets of Kyoto, and yatai street food stalls bustling in alleys of Fukuoka. And let's not forget, Tokyo alone boasts the most Michelin-starred restaurants in the world!
Throughout the country, fine dining restaurants serving exquisite kaiseki banquets contrast cheap "shokudo" cafeterias meals for salarymen on-the-go. You can order dinner directly from a tablet or even a vending machine, or choose your own sushi pieces trundling past on the belt of a sushi train. Nibble on small plates as you drink up during an izakaya dining experience, seated on tatami flooring and cheersing "kampai!" with the locals. There are so many exciting Japan restaurant options with different foods and local cuisines to try, so don't waste a moment of your trip looking for a restaurant! Reserve ahead of time at some of the best restaurants in Japan with byFood and secure some of the country's best cuisine for your taste buds. Don't forget to say, "gochisosama deshita" when you leave any Japan restaurant, meaning "thank you for the meal!"