Tailor-Made Tours
Can't find what you're looking for? We can plan a custom-made food experience or itinerary just for you.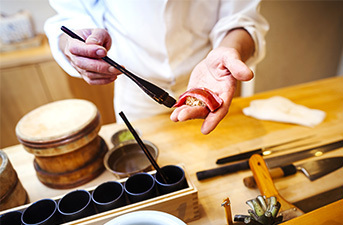 A den of outdoor adventure and historic samurai towns facing out onto the sea of Japan, Akita Prefecture has plenty to offer adventurous foodies who make the journey north. The waters off the coast hold some of the best oysters in the world, which come into season over the summer months, while hatahata sandfish find their way into winter stews.
Further inland, you'll find the prized local hinai chicken breed, one of the most popular, umami-packed varieties in the country. All of these premium Akita delicacies and more can be found in its restaurant kitchens, where local chefs showcase the best of the prefecture's culinary heritage with pride.
With byFood's range of the best restaurants in Akita, you can discover the very best the prefecture has to offer. Whether you're searching for unique local renditions of the classic Japanese dishes, unbelievable udon noodles, or some winter-warmer hot pots, they're all just a few clicks away. Browse and reserve seats at Akita restaurants right here.