Filters
Host Donations (high to low)
Newest First
Price (low to high)
Price (high to low)
Rating
Number of Reviews
Tailor-Made Tours
Can't find what you're looking for? We can plan a custom-made food experience or itinerary just for you.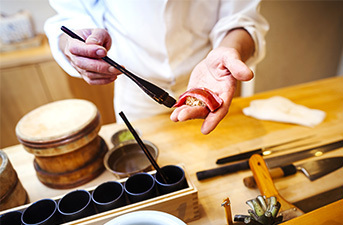 Vegetarian Dining Experiences in Osaka
Food in Osaka is renowned for being consistently high-quality with intense, moreish flavors. Both interesting in textures and ingredients, the food in Osaka is some of the best in Japan! With hundreds of incredible restaurants, even people who only eat vegetarian food can enjoy the best local restaurants. So many unique restaurants and bars serve delicious Kansai cuisine that's meat-free and delicious, so if you are a vegetarian visiting Japan, you can book one of our vegetarian dining experiences in Osaka for an unforgettable meal. Vegetarian dining experiences include dishes such as vegetarian gyoza, Japanese curry, ramen, oden, and more! You can enjoy a vegetarian fine dining kappo feast, or try a traditional vegetarian bento box in a quiet family-run restaurant. There are even restaurants and temples where you can enjoy shojin ryori, the Japanese Buddhist cuisine. A world of delicious vegetarian food awaits! Book one of our vegetarian dining experiences in Osaka here for an amazing meat-free meal you'll never forget.