Filters
Host Donations (high to low)
Newest First
Price (low to high)
Price (high to low)
Rating
Number of Reviews
Tailor-Made Tours
Can't find what you're looking for? We can plan a custom-made food experience or itinerary just for you.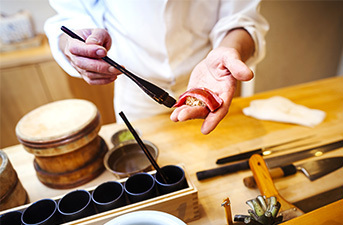 Tea Ceremony in Japan
Dating back to the 8th century, tea was originally introduced to Japan from China. The tea ceremony in Japan is considered to be one of the three main traditional Japanese art forms, sitting proudly alongside calligraphy and ikebana flower arranging. The ritualistic side of the Japanese tea ceremony and the preparation of matcha green tea was introduced by Zen Buddhists in Kyoto. Today, the historical and ceremonial process of preparing matcha is known as "chado" or "the way of tea," and can be enjoyed at tea rooms throughout Japan from Tokyo to Osaka and beyond. Once a beverage enjoyed solely by bureaucrats and elite samurai, Japanese green tea and traditional practices of the Japanese tea ceremony in Japan is now an experience enjoyed by anyone. Typically held in a beautiful Japanese tea room, you can enjoy matcha with traditional wagashi sweets during a Japan tea ceremony where you can even learn how to make matcha yourself with guidance from a master. Relax and enjoy the refinement and tranquility of this unique cultural experience that is deeply rooted in Japan's history.
Find More from Japan