Filters
Host Donations (high to low)
Newest First
Price (low to high)
Price (high to low)
Rating
Number of Reviews
Tailor-Made Tours
Can't find what you're looking for? We can plan a custom-made food experience or itinerary just for you.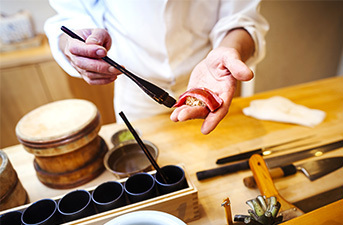 Street food is a big deal in the Land of the Rising Sun, and its vendors are some of the most consistently creative in the world. In fact, many of the iconic dishes of Japan — including sushi and yakitori — started their life in the street food carts of the big cities! These old-school carts are known as yatai, and nowadays they've undergone a hipster renaissance.
Alongside the classic Japanese street food dishes, you'll find plenty of more recent additions to love like "yaki imo" baked sweet potatoes, "takoyaki" octopus batter balls, "imagawayaki" cakes filled with red bean paste, to name a few. The list is basically endless, and each region has its own unique variations to discover.
If you want the lowdown on the local street delicacies, hop on one of these Japanese street food tours and get the expertise from a local guide. You'll be taken to the very best places to try Japanese street food in its most authentic forms. By the time you're finished, you'll be an expert in all the classics, as well as whatever new styles the mad scientists of the market stall and yatai are cooking up next.
Find More from Japan