Filters
Host Donations (high to low)
Newest First
Price (low to high)
Price (high to low)
Rating
Number of Reviews
Tailor-Made Tours
Can't find what you're looking for? We can plan a custom-made food experience or itinerary just for you.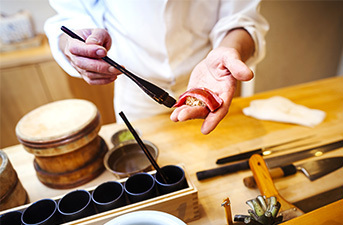 The beating heart of any Japanese food scene is the bustling markets of its cities. At the break of dawn, the sushi chefs converge to score the freshest fish of the day, while greengrocers arrange their farm-fresh produce, and street food vendors set up their stalls with simmering pots and sizzling grills. The smell of it all alone is enough to set your appetite alight!
Joining a market tour in Japan is a must-do for any true foodie tourist — whether it's the world-famous fish market at Toyosu with its million-dollar tuna, the delightful snacks and souvenirs of Kyoto's Nishiki Market, Osaka's street food Meccas, or any the other tantalizing epicenters of Japanese food culture.
What you might not know though, is that some of these markets are as vast as they are vibrant. Rather than navigating your way through their labyrinthine corridors alone, why not enlist the help of an expert local Japanese guide during one of these Japanese market tours to maximize your time there? Our lineup of market tours in Japan will help you unlock the very best the markets of Japan have to offer!
Find More from Japan