Filters
Host Donations (high to low)
Newest First
Price (low to high)
Price (high to low)
Rating
Number of Reviews
Tailor-Made Tours
Can't find what you're looking for? We can plan a custom-made food experience or itinerary just for you.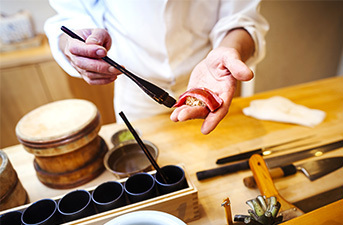 Walk around any city center in Japan past 10pm and one thing is abundantly clear: the Japanese love a good drink. The country is home to some of the best breweries and distilleries in the world, which produce more varieties of Japanese sake, beer, and whisky than anyone could ever hope to sample!
Japanese beer breweries produce premium pints which are sold in top restaurants all around the world, and have been doing so for the past 150 years. Japanese whisky distilleries have been rolling out casks of world-class spirits and the best whisky bars for about as long, and some have even recently started beating the old-school Scottish and Irish producers for the top spot in the world!
With an even longer pedigree, Japan's top sake breweries have up to three centuries of experience under their belts; a visit to a historic sake brewery like Tokyo's Toshimaya Shuzo is a top culinary and cultural experience wrapped into one.
Whatever your poison, byFood's range of brewery and distillery tours in Japan have something for you. Book your spot on one of these Japanese drinking experiences for an afternoon of culture and history, with a delicious tasting (or five) to boot.