Filters
Host Donations (high to low)
Newest First
Price (low to high)
Price (high to low)
Rating
Number of Reviews
Kyoto Tea Farm Tour, Tasting, and Lunch in Scenic Wazuka
Visit the town of Wazuka-cho, recognized as a Scenic Property of Kyoto Prefecture. Producing nearly half Kyoto's tea, at Wazuka-cho, you can tour the farm and factory, have a tasty lunch featuring tea soba, and join a tasting with 9 types of tea.
(5)
Tailor-Made Tours
Can't find what you're looking for? We can plan a custom-made food experience or itinerary just for you.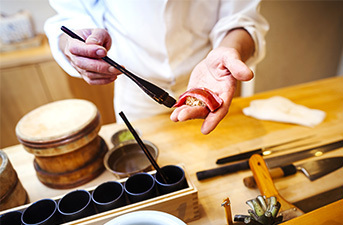 Kyoto Tea Tour
Many prefectures of Japan have great conditions for tea production, but Kyoto is well-known for pioneering Japan's tea culture in the early days of Zen Buddhism in Japan. Discover the local stand-out varieties across the Kyoto region, such as famous Uji green tea, by joining a tea tour in Kyoto. Sample tea from the best local tea shops downtown, visit a family-run business with a history of Japanese tea, or escape to the fields of a local Kyoto tea farm for a day during a Kyoto tea tour. Learn about local ingredients and production methods that make tea from Kyoto so unique, and understand why tea is ingrained in everyday life. An immersive experience that's also tied to Kyoto's history, the Japanese tea ceremony is a cultural experience that is deeply rooted in ritual. Visit a traditional tea room where you can experience an unforgettable tea ceremony in Kyoto on an authentic tatami floor with local matcha green tea, local Kyoto wagashi sweets, and a trained tea master. Made from the best tea leaves, enjoy tasting different types of tea during a Kyoto tea tour, where you can compare regional tea flavors and discover your favorite!