Fukuoka is filled with friendly faces, stunning beaches, fiery volcanoes, and more restaurants than the eye can see. Take a closer look at Japanese food with one of our Fukuoka market tours.
Filters
Host Donations (high to low)
Newest First
Price (low to high)
Price (high to low)
Rating
Number of Reviews
Tailor-Made Tours
Can't find what you're looking for? We can plan a custom-made food experience or itinerary just for you.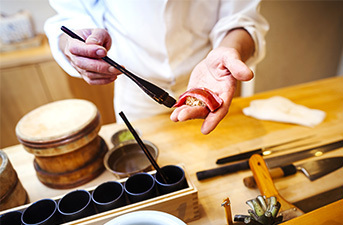 Fukuoka Market Tours
Fukuoka is a dynamic city in southwestern Japan that boasts a thriving culinary scene and an abundance of bustling markets. Visiting a Fukuoka food market is an ideal way to taste your way around the city and embark on an exciting journey into a world of flavors, aromas, and regional atmosphere.
Markets in Fukuoka
A Fukuoka market tour is the perfect way to navigate this spirited culinary landscape. Led by knowledgeable guides who are passionate about food and Fukuoka's culture, these tours provide an immersive and educational experience. You'll be introduced to the local vendors, hear their stories, and gain insights into the ingredients, cooking techniques, and traditions that define Fukuoka's cuisine.
Fukuoka Fish Markets
Fukuoka is a food lover's paradise, and its markets are the beating heart of the local gastronomic culture. Head to the heart of the city and explore a Fukuoka fish market (Nagahama Fish Market, to be exact), where you'll taste some of the freshest seafood in town. Seafood lovers will find themselves in paradise at the market's fish section. From pristine sashimi-grade fish to succulent grilled scallops and plump oysters, the bounty of the sea is at your fingertips. Engage in lively conversations with the fishermen, learn about their sustainable practices, and savor the catch of the day at one of the market's cozy seafood stalls.
Fukuoka Food Markets
Another Fukuoka food market hotspot is Yanagibashi Market, one of the city's thriving hubs where locals and tourists alike gather to get a bite of the action. As you step into the market, prepare to be greeted by the sound of energetic vendors, and the heavenly aromas of fresh produce, seafood, and street food wafting through the air. But it's not just fresh produce and seafood that Fukuoka's markets have to offer. Prepare to be enchanted by the aroma of sizzling street food that fills the air. Takoyaki, a beloved Fukuoka specialty, is a must-try. These savory octopus-filled balls are cooked to perfection, crispy on the outside and soft on the inside. And don't forget about the irresistible aroma of yakitori, juicy skewers of grilled chicken that are guaranteed to satisfy your taste buds.
Fukuoka Living
Beyond the delectable food, Fukuoka market tours offer a glimpse into the daily lives of locals and the cultural heritage of the city. You'll witness the lively banter between vendors and customers, observe the intricate art of food preparation, and experience the sense of community that permeates these vibrant marketplaces. It's an opportunity to connect with the heart and soul of Fukuoka and gain a deeper appreciation for its culinary traditions.
Fukuoka Shopping Arcades
Moving from food to shopping, Kawabata Shopping Arcade is a lively covered street filled with shops and vendors selling a variety of goods, from traditional crafts to local snacks. Hakata Traditional Craft and Design Museum Market offers a treasure trove of handmade crafts, textiles, ceramics, and unique souvenirs that showcase Fukuoka's artistic heritage.
Fukuoka Cuisine
For those seeking a more immersive experience, some market tours even include hands-on activities. You might have the opportunity to join a cooking class and learn how to make traditional dishes like Hakata ramen or mentaiko (spicy cod roe). Under the guidance of skilled instructors, you'll master the techniques and secrets behind these iconic Fukuoka delicacies. It's a chance to not only taste the flavors of Fukuoka but also bring a piece of its culinary tradition home with you.
Fukuoka market tours are a treat for the senses and a gateway to Fukuoka's rich culinary heritage. They provide a unique opportunity to engage with the local community, explore the diverse range of ingredients and dishes, and create lasting memories. Whether you're a food enthusiast, a cultural explorer, or simply seeking a fun and immersive experience, Fukuoka's markets and market tours offer an unforgettable journey through the flavors, traditions, and vibrant spirit of this captivating city. So, grab your appetite and get ready to savor the best of Fukuoka's markets.