Filters
Host Donations (high to low)
Newest First
Price (low to high)
Price (high to low)
Rating
Number of Reviews
Tailor-Made Tours
Can't find what you're looking for? We can plan a custom-made food experience or itinerary just for you.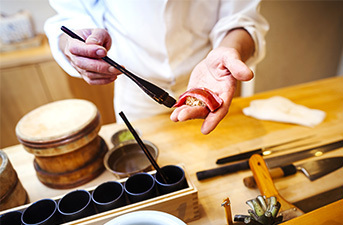 Osaka Sake Brewery Tours
English speakers have come to know "sake" as the national drink of Japan, however this word in Japanese technically means "alcohol" in general. The famous tipple is referred to as "nihonshu" in Japanese and the people of Osaka certainly don't mind a drink! Learn all about locally-brewed Japanese sake during a sake brewery tour in Osaka, and explore different types of local Osaka sake in more intimate detail, a great supplement to a bar hopping experience. Step inside the bowels of a local Osaka sake brewery and learn all about the history, production methods, local ingredients and unique flavors, and best sellers of each brewery. During an in-depth Osaka sake brewery tour, taste some of the best local sake brewed on-site, and compare different flavors on your palate. From crispy and dry to sweet and fizzy, you can discover your new favorite Japanese drink! Crafted with care and a longstanding history, taste some of the best sake in Japan, with a range of different innovative high-quality premium sake styles to try. For all the intel you need on sake from the Kansai region, join an Osaka sake brewery tour to learn everything you need to know about sake, right from the source!