Filters
Host Donations (high to low)
Newest First
Price (low to high)
Price (high to low)
Rating
Number of Reviews
Tailor-Made Tours
Can't find what you're looking for? We can plan a custom-made food experience or itinerary just for you.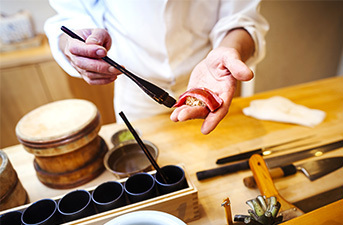 Osaka Street Food Tour
On the hunt for local street food in Osaka? Osaka is almost synonymous with street food, that's why the city is colloquially well-known as "Japan's Kitchen." From the busy streets of Dotombori and the central Namba district to the glittering Shinsekai area, discover Osaka's city streets and the best street food it has to offer by joining an Osaka street food tour. Savory and filling with a signature flavor, street food stalls in Osaka and beyond sell savory slabs of okonomiyaki (you can even grill your own at some restaurants!) cut into slices to-go like a pizza. Full of gooey deliciousness (and octopus pieces), the classic Kansai dish of takoyaki balls is now a unique dish that's loved throughout Japan. Learn all about local Japanese food and jump on a street food tour in Osaka to join the mission to discover the best street food in the city! Discover Osaka's regional cuisine as you visit tiny shopfronts owned by locals, bursting with steaming bowls of ramen, freshly made sushi, sweet treats, and more (both traditionally flavored and those more modern and adventurous).