Osaka is home to over 19 million people, making it the second-largest city in Japan and the 10th most populous in the world. What does that mean? A lot of mouths to feed—and restaurants to do just that! Get a bite for yourself on an Osaka food tour.
Filters
Host Donations (high to low)
Newest First
Price (low to high)
Price (high to low)
Rating
Number of Reviews
Tailor-Made Tours
Can't find what you're looking for? We can plan a custom-made food experience or itinerary just for you.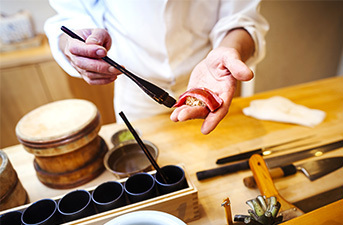 Frequently Asked Questions
What Food Is Osaka Famous For?
Osaka is best known for Okonomiyaki and Takoyaki. These two foods are the culinary version of a national treasure. Okonomiyaki is a savory pancake stuffed with cabbage, pork belly, and oftentimes shrimp or octopus. It's topped with a special sauce (similar to Worcestershire), mayonnaise, and fish flakes. The best Osaka food tours will include this beloved, battered dish. Now moving onto piping-hot octopus-ball business, Takoyaki. Takoyaki is a sphere-shaped street food snack made of savory batter filled with chopped octopus, pickled ginger, and green onion, topped with mayonnaise and bonito flakes.
Where Can I Find the Best Food in Osaka?
Everywhere (seriously). The best food in Osaka can be found in street food stalls and back alleys (yokocho) to fine dining restaurants and local eateries. Heading to the Dotonbori, Namba, and Shinsekai districts won't steer you wrong. An Osaka food tour will make sure you taste all of the top eats.
Where Can I Find Cheap Food in Osaka?
Osaka food markets, back alleys (yokocho), and street food stalls will deliver the best value for Osaka foodie money.
What Can I Expect From an Osaka Food Tour?
Adventures of a lifetime. Our Osaka Food Tours offer a range of culinary experiences ranging from Osaka back alley (yokocho) expeditions and Dotonbori walking tours to street food missions and Osaka food specialty tours. Regardless of where or what type of food tour you embark upon, you'll be guided by expert hosts and make memories to last a lifetime.
What Types of Food Can I Expect To Try on the Osaka Food Tour?
Osaka is a feasting ground for foodies worldwide. In this city, street food sings–takoyaki (battered octopus balls), okonomiyaki (savory Japanese pancake), kushikatsu (deep fried skewers), doteyaki (stewed beef tendon), and beyond. Osaka has flavors to suit every palette, so find what makes your taste buds tingle by joining one of our Osaka Food Tours!
How Long Does an Osaka Food Tour Last?
It varies depending on the type of experience; however, typically you can expect an Osaka Food Tour to last anywhere from 1 hour to 3 or 4 (if visiting multiple locations).
Are There Vegetarian or Vegan Options Available for Osaka Food Tours?
Yes! There are plenty of Osaka Food Tours that cater to dietary restrictions, including vegetarian and vegan. On the listing page, you can filter experiences by selecting your dietary restriction and applying the filter to see all the experiences that fit your needs.
How Do I Book an Osaka Food Tour?
First, use the search bar and filters to find a specific experience. Then, select the date for the experience and the number of participants. Add extra information–such as dietary restrictions–in the additional notes section. Then, make the payment. If the host has set the experience to 'Instant Confirmation,' the booking will be confirmed automatically. If the host has set the experience to 'Manual Confirmation' the host will either confirm or reject your booking. You'll likely receive a reply within one business day. After confirmation, you will receive detailed meeting instructions and access info.
Can I Customize an Osaka Food Tour to My Preferences?
Yes, you can fully customize your Osaka Food Tour experience based on your preferences. Using the search bar and filters, you can select from a range of options to narrow down an Osaka Food Tour experience that's perfect for you.
What Should I Wear and Bring for an Osaka Food Tour?
This will vary depending on the type of experience. However, good walking shoes and comfortable clothing are usually a safe bet.
Food Tours in Osaka
Osaka is a highlight of Japan's Golden Route. It's located on the main island of Honshu in Japan and is known for its lively culture, friendly people, and incredible food scene. This city has so much to offer from the neon lights of Dotonbori to the majestic Osaka Castle, action-packed Universal Studios Japan, and mouth-watering street food in the downtown Namba district.
From delectable street food to exquisite sushi, Osaka offers a unique gastronomical experience that will leave your taste buds tingling. Osaka is known as the food capital of Japan, where the city's culinary scene is as vibrant as its nightlife. There are plenty of daytime Osaka food tours, but if you fancy heading out after dark, joining an Osaka night food tour is the way to go. First, put on your stretchy pants and join us on a quick foodie tour through Osaka's best eats, here.
Osaka Famous Foods
Osaka is a city so passionate about food it has its related catchphrase. 'Kui-daore' is a popular expression you'll hear bandied about on the streets of Osaka, translating to 'eat until you drop'. Where are the best places to 'kui-daore' in the nation's kitchen? We're so glad you asked. First stop, Dotonbori–Osaka's most famous food destination. The bright neon lights and the bustling crowds make Dotonbori an exciting place to be at night. But it's the food that attracts visitors from all over the world. The most iconic dish in Dotonbori is the Takoyaki – a ball-shaped snack made from a savory batter filled with diced octopus, pickled ginger, and green onion, topped with mayonnaise and bonito flakes. Don't let the size fool you; these tiny balls pack a flavor punch. After a visit to this renowned culinary district, you can proudly call yourself a fully-fledged Osaka foodie.
Next, we head to Kuromon Ichiba Market, Osaka's Kitchen. This market has existed since 1902 and is a food lover's paradise. This market has everything from fresh seafood like octopus, squid, and sea urchin to Kobe beef. Try the grilled scallops, buttery and succulent with a hint of smokiness, and the Fugu sashimi–a dish made from the notoriously poisonous pufferfish that can only be served by licensed chefs.
Osaka Yokocho (Drinking Alley) Tours
For something more unconventional, check out an Osaka back alley (yokocho) food tour. We'll take you to the hidden alleys of Osaka to discover some of the bizarre snacks the locals love. How about trying the Kushikatsu–skewered foods like chicken, shrimp, and vegetables, battered and deep fried to perfection? And don't forget to dip them in the thick and sweet tonkatsu sauce–a local favorite. If you want to feast but get your steps in, we present an Osaka food walking tour–the best of both worlds.
Guided Food Tours in Osaka
One of the best ways to discover the city's food scene is to take a guided food tour in Osaka. These tours are led by knowledgeable guides who will take you to the best spots in the city, from hole-in-the-wall eateries to high-end restaurants. By joining an Osaka food tour with a guide, you'll learn about the history of each dish and the ingredients used to create these culinary delights. Plus, you'll get to try various dishes without the hassle of researching and planning your itinerary.
Deep Osaka Food Tours
For those who want a super exclusive food experience, try one of our secret or deep Osaka food tours. These ventures take you off the beaten path, away from the tourist crowds, and to some of Japan's most authentic culinary experiences. From a traditional Japanese breakfast to a sake tasting, these tours offer a unique insight into the local food culture.
Last but not least, we can't talk about Osaka's food scene without mentioning the local specialty–Okonomiyaki. Imagine a savory pancake filled with cabbage, pork belly, and sometimes shrimp or octopus, topped with a special sauce, mayonnaise, and bonito flakes. It's a dish that's satisfying and rich in flavor. The best place to try this dish is at a traditional Okonomiyaki restaurant, where you can watch your meal being cooked on a hotplate. This culinary darling is often enjoyed with a drink, so an Osaka food and sake tour will do the trick.
Osaka is a food lover's paradise; the best way to experience it is through an Osaka food tour. From the iconic Takoyaki to the unconventional Kushikatsu, Osaka's culinary scene offers something for everyone. So, come hungry, curious, and ready to discover what Osaka offers.
Find More from Japan