Filters
Host Donations (high to low)
Newest First
Price (low to high)
Price (high to low)
Rating
Number of Reviews
Tokyo Local Bike Tour for Foodies
Explore the delicious flavors and attractions of Tokyo on two wheels! Join our Tokyo bike tour and experience the city's best eats in the eclectic neighborhoods of Nakano, Koenji, and Asagaya. Come and see Tokyo through a local's eyes!
(6)
Backstreets of Tokyo Bike Tour
Cycling around Asakusa, Tokyo's historic district, you'll explore temples, alleyways, and shopping streets, while tasting succulent street food. Learn about the hidden gems and dive deeper into this popular tourist area with a local guide.
(1)
Bike and Boat Tour of Asakusa, Tsukiji, and Fukagawa
Led by a bilingual guide, this adventurous tour takes you cycling through the backstreets of Asakusa, strolling through Tsukiji Fish Market, and cruising down the Sumida River on a boat, with a view of the stunning Tokyo skyline.
Tailor-Made Tours
Can't find what you're looking for? We can plan a custom-made food experience or itinerary just for you.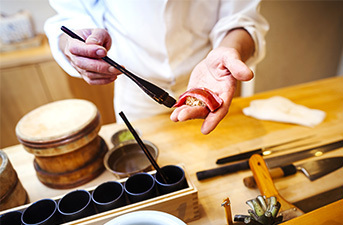 Tokyo Bike Tours
Discover a different side of Tokyo by taking to the streets on bike! Jump on a Tokyo bike tour as a unique way to explore some of the best districts of this crazy maze of a city. Faster than traveling by foot (and far more intimate than simply taking the train), traversing on two wheels allows you soak up more of the city behind the scenes! Zip down back streets and discover off-the-beaten-path communities filled with family-owned restaurants and locally-run shops. Cycle around the streets of Nakano and get to know this Tokyo neighborhood's best restaurants, explore the best local shopping spots in the hip Kichijoji area, or perhaps head off to somewhere you've never heard of! Feel like a local during a bike tour in Tokyo as you stop off to meet store owners in "yokocho" alleyways and enjoy some of the street food in Tokyo. Tokyo bike tours are great for families or anyone who wants to experience a slice of local life in Tokyo at the pace of pedal power.