Filters
Host Donations (high to low)
Newest First
Price (low to high)
Price (high to low)
Rating
Number of Reviews
Tailor-Made Tours
Can't find what you're looking for? We can plan a custom-made food experience or itinerary just for you.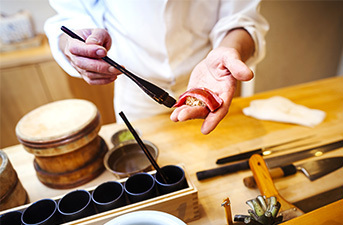 Hiroshima Tea Ceremony
Steeped deeply in Japanese history, the ceremonial preparation of matcha green tea was introduced to Japan during the 8th century, with its origins hailing from China. Traditions of "the way of tea" and the Japanese tea ceremony became an important part of Japanese culture since it was popularized by Zen Buddhism practices in Kyoto. Today, it is considered an important cultural activity that is widely enjoyed throughout Japan. Even in Hiroshima, you can enjoy the calming and immersive experience of a Hiroshima tea ceremony held in a traditional Japanese tea room. Featuring authentic Japanese decor and traditional tatami flooring, discover the art of the tea ceremony during a tea ceremony in Hiroshima, the perfect opportunity to experience how to prepare green tea for yourself using traditional tools. Or, simply sit back and relax as you soak up the refined atmosphere during this authentic experience, and taste natural wagashi sweets. Led by a master of tea, learn all about the history, preparation, and culture of Japanese tea by joining a Hiroshima tea ceremony.