Filters
Host Donations (high to low)
Newest First
Price (low to high)
Price (high to low)
Rating
Number of Reviews
Tailor-Made Tours
Can't find what you're looking for? We can plan a custom-made food experience or itinerary just for you.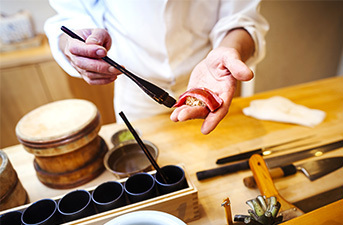 Hiroshima Dining Experiences
Hiroshima offers so many diverse places to eat where venues each flaunt their own distinct personality and atmosphere, sometimes it can be difficult working out where to eat. The flourishing Japanese food scene in Hiroshima ranges from humble specialty restaurants to sushi train establishments to classy restaurants and themed cafes! So, let us help you to make up your mind. With helpful staff and a killer menu of Hiroshima specialties, book one of our Hiroshima dining experiences to enjoy a unique meal that you'll always remember!
Picture yourself sitting at a teppanyaki grill enjoying a wonderfully layered Hiroshima-style okonomiyaki, with a glass of locally-produced Japanese sake from the Saijo district. Sound good? Or, maybe you want to splurge on a Hiroshima dining experience that's a little bit fancy! Whatever you're into or whatever special occasion you're celebrating, our Hiroshima dining experiences can make it happen for you! You can experience a unique meal with one of our Hiroshima dining experiences. We can cater to anyone that has a dietary restriction, so you don't have to feel limited if you only eat vegan, vegetarian, halal food, or any others. Check out our Hiroshima dining experiences here on byFood, and enhance your trip to the south of mainland Honshu with an unforgettable meal.