Filters
Host Donations (high to low)
Newest First
Price (low to high)
Price (high to low)
Rating
Number of Reviews
Ramen and Gyoza Cooking Class in Osaka
Learn how to make soy-sauce based ramen during this cooking class in Osaka! Yoko, a certified food coordinator and licensed guide will teach you her recipe for this iconic dish, as well as how to make gyoza (pan-fried dumplings).
Tailor-Made Tours
Can't find what you're looking for? We can plan a custom-made food experience or itinerary just for you.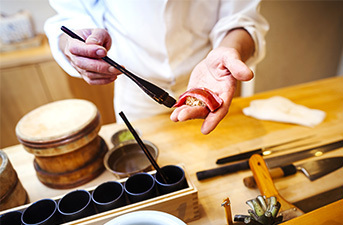 Gyoza Cooking Classes in Osaka
Plump, juicy, and the perfect match for an ice cold beer, gyoza are the addictive Japanese dumplings that pack a punch with every bite! Adapted from Chinese dumplings, the most common type of gyoza dumpling is the pan-fried type (soft on the top yet still crispy on the bottom), however, some people prefer them simply boiled or even deep-fried. Best dipped in soy sauce and vinegar, bite-sized gyoza makes a delicious drinking snack every time! Want to recreate succulent gyoza at home? Sharpen up your cooking skills in Osaka, from mixing the filling to wrapping them up and cooking them to perfection! Learn how to make gyoza during your next trip to Osaka by joining a gyoza cooking class in Osaka. Juicy on the inside and bursting with flavor, you could even learn how to make them as a side dish during a ramen cooking class. For those with dietary requirements, there are many vegan and vegetarian cooking classes in Osaka that offer gyoza making options which are meat and animal product-free, or even halal.