Filters
Host Donations (high to low)
Newest First
Price (low to high)
Price (high to low)
Rating
Number of Reviews
Tailor-Made Tours
Can't find what you're looking for? We can plan a custom-made food experience or itinerary just for you.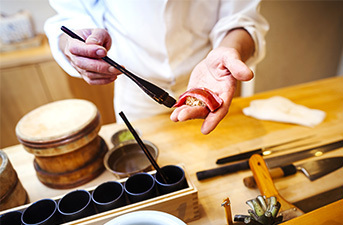 Find Top Halal Cooking Classes in Osaka
It seems fitting to join a cooking class in the city known as "Japan's Kitchen," and if you follow Islamic dietary restrictions, you can too! Osaka has so much amazing Japanese food from its repertoire of Kansai cuisine, which you can learn how to make for yourself! Here at byFood we offer many cooking classes in Osaka, where many of the recipes are Muslim-friendly with a bit of tweaking and alternative halal ingredients. Halal cooking classes in Osaka are the perfect opportunity to learn how to make your own halal Japanese food when you next take a trip to Japan's culinary capital!
Test your skills of deep-frying and grilling as you make your own halal Japanese food in Osaka. Halal okonomiyaki comes to mind, or perhaps pork-free ramen? Our halal cooking classes in Osaka offer halal ingredient alternatives so that you don't have to miss out on making classic dishes of Kansai cuisine. You can jump in and try your hand at cooking delicious Japanese food using halal ingredients in Osaka, so no stress! Check out our halal cooking classes in Osaka right here on byFood.