Fukuoka has abundant natural beauty, with the land on the right and the sea to the left. Get in touch with the greener side of life with one of our Fukuoka farm stay experiences!
Filters
Host Donations (high to low)
Newest First
Price (low to high)
Price (high to low)
Rating
Number of Reviews
Tailor-Made Tours
Can't find what you're looking for? We can plan a custom-made food experience or itinerary just for you.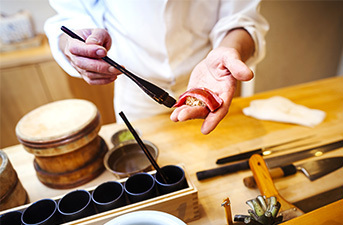 Fukuoka Farm Stays
Fukuoka is on the rise when it comes to eco and nature tourism due to its abundance of natural beauty–picturesque beaches, lush rainforests, stunning waterfalls, and fiery volcanoes. With the land on the right and the sea to the left, there's an abundance of things to do if you're in or seeking to get in touch with the great outdoors.
Fukuoka seamlessly blends modernity with the enchanting beauty of nature. You'll be captivated by lush green landscapes, breathtaking mountains, and the idyllic countryside. Picture this: Waking up to birds chirping, stepping out onto the deck, and taking a breath of crisp, fresh air, as you gaze at rolling hills and greenery as far as the eye can see…
Fukuoka Farm Stay Experience
Fukuoka's farm stays offer a unique opportunity to escape the hustle and bustle of city life and immerse yourself in the rural charm of the region. Picture yourself in a traditional farmhouse, nestled amidst sprawling fields and lush gardens. The warm hospitality of your hosts will make you feel like a part of their extended family, and you'll quickly become acquainted with the rhythms of daily farm life. During a Fukuoka farm stay experience, you'll have the chance to roll up your sleeves and engage in various activities that connect you with nature. Whether it's picking fresh fruits and vegetables, tending to crops, or even feeding adorable farm animals, each experience is a chance to reconnect with the earth and appreciate the simple joys of agricultural living. Plus, the satisfaction of enjoying a delicious meal prepared with the fruits of your labor is unmatched!
Fresh Produce in Fukuoka
But it's not just the farm activities that make Fukuoka farm stays so special. The region is known for its rich culinary heritage, and farm stays provide a unique opportunity to savor the flavors of Fukuoka's fresh and organic produce. From farm-fresh eggs and seasonal vegetables to succulent fruits bursting with flavor, each meal is a celebration of local ingredients and traditional cooking techniques.
Fukuoka farm stays offer a glimpse into the deep-rooted traditions and cultural practices that have shaped the region's agricultural landscape. Your hosts will share their knowledge and stories of farming techniques passed down through generations. From rice cultivation and tea picking to the art of food preservation, you'll gain a newfound appreciation for the hard work and dedication that goes into sustaining a harmonious relationship with the land. But it's not all work and no play at Fukuoka's farms, with ample opportunities to unwind and enjoy the natural surroundings. Take a leisurely stroll through the countryside, explore charming villages, or bask in the beauty of the landscape as you sip on a cup of freshly brewed tea. Farm stays provide a respite from the fast-paced world, allowing you to rejuvenate and reconnect with yourself and the environment.
Fukuoka Landmarks
Fukuoka's natural beauty extends beyond the farms. The city itself boasts an array of parks, gardens, and outdoor spaces where you can bask in the glory of nature. Ohori Park, with its tranquil lake and lush greenery, offers a peaceful oasis in the heart of the city. Walk along the trails of Atago Shrine and revel in the stunning views of Fukuoka's skyline. And don't miss out on a visit to Uminonakamichi Seaside Park, a sprawling seaside paradise that combines beautiful gardens, amusement rides, and even a zoo.
Fukuoka farm stays and the city's natural beauty are a testament to the harmony that can be found between urban development and the preservation of nature. Whether you're seeking a tranquil escape from the city or an opportunity to embrace a simpler way of life, Fukuoka's natural wonders and farm stays provide the perfect setting for an unforgettable experience.
If you're seeking a getaway on the greener side, one of our farm stay experiences is guaranteed to soothe your soul. So sit back and relax as we eliminate the language barriers, reservation woes, navigational fuss, and itinerary headaches – our Fukuoka farm stay experiences are ready and waiting for you!