Tailor-Made Tours
Can't find what you're looking for? We can plan a custom-made food experience or itinerary just for you.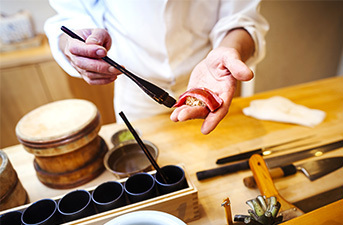 Kaiseki Restaurants in Tokyo
There is no more authentic Japanese dining experience than kaiseki. This iconic cuisine is the pinnacle of refinement, in which culinary auteurs present the best ingredients of the season in a series of small dishes for an exclusive audience of diners.
Since kaiseki is based so much on the seasons and the individual chef's inspiration, you'll never know exactly what to expect. One dish could be a grilled sweet-fish treat cooked over a burning pit of coals, the next a platter of wild vegetable tempura harvested just that very morning. One thing you can always expect, however, is gorgeous presentation. Inspired by traditional Japanese tea ceremony, kaiseki was developed in old Kyoto as a feast for each and every one of the senses.
If that all sounds very fancy, that's because it kind of is! The very best kaiseki restaurants in Japan have three Michelin stars and waiting lists up to two years long, meaning kaiseki can often seem sealed off inside highly exclusive circles. But don't despair — with plenty of top kaiseki restaurants to choose from, our English-language restaurant reservation service gives you the inside track to access this fascinating world of tantalizing tradition. What are you waiting for?