Filters
Host Donations (high to low)
Newest First
Price (low to high)
Price (high to low)
Rating
Number of Reviews
Tailor-Made Tours
Can't find what you're looking for? We can plan a custom-made food experience or itinerary just for you.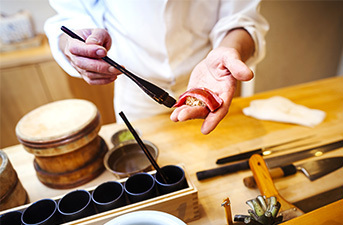 Vegan Dining Experiences in Osaka
Veganism in Japan is becoming more widespread, so there are plenty of restaurants in Osaka that can cater to people on a vegan diet. To take out the stress of finding where to go, we can help you out with some of our awesome vegan dining experiences in Osaka. From quality tofu to delicious veggie side dishes, there are plenty of options of Kansai cuisine to eat at some of the most unique restaurants in the city! Joining vegan dining experiences in Osaka will give you the chance to have a unique meal that you will never forget, whether it is a fancy vegan buffet or a plant-based dinner at a themed restaurant, or perhaps an elaborate vegan banquet of Kansai-style kappo dining. No need to stress about finding somewhere with vegan-friendly Japanese food, we can set you up with top-quality vegan dining experiences in Osaka. Browse them here on byFood.