Filters
Host Donations (high to low)
Newest First
Price (low to high)
Price (high to low)
Rating
Number of Reviews
Tailor-Made Tours
Can't find what you're looking for? We can plan a custom-made food experience or itinerary just for you.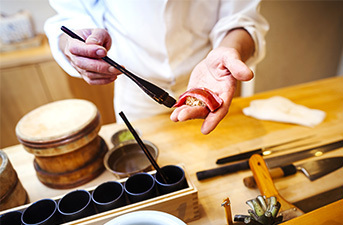 Vegetarian Dining Experiences in Japan
In a country as convenient and efficient as Japan (with 24/7 convenience stores located on every street), you would think that Japan has it all! But if you're a vegetarian in Japan, you might be faced with the challenges of finding something you can eat at restaurants, shops, and even the ready-made food aisles of supermarkets. Bento boxes usually include fish or meat products, and even miso soup is usually made with a fish-based dashi broth. But while it is important to be aware that Japanese cuisine relies heavily on the fishing industry (as should be expected of an archipelago surrounded by abundant waters), it is by no means impossible to find vegetarian food in Japan.
Don't worry about invisible meat or fish ingredients! Find out what's for dinner (or lunch) by browsing these vegetarian dining experiences in Japan. Restaurants in Japan are becoming more and more accommodating to those with dietary restrictions like vegetarianism. So why not show your support for vegetarian restaurants in Japan and chefs who are striving to provide plant-based meals to guests from abroad! Join a vegetarian dining experience in Japan, right here on byFood.