Filters
Host Donations (high to low)
Newest First
Price (low to high)
Price (high to low)
Rating
Number of Reviews
Tailor-Made Tours
Can't find what you're looking for? We can plan a custom-made food experience or itinerary just for you.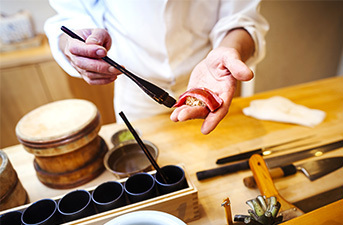 Kosher Dining Experiences in Japan
If you're Jewish and you're in love with Japanese culture and food, but you are not sure if you can find kosher food in Japan that is up to your standards, then you're in the right place! Don't worry about your dietary needs, as Japan is a country where you can enjoy the culture and food without compromising your beliefs.
The daunting task of finding kosher food in Japan might stress you out when you're first planning your Japan trip, but your life will be made so much easier with these kosher dining experiences in Japan! Enjoy dining experiences, like dinners with private chefs, special course menus, and themed restaurants! Not only are these kosher dining experiences in Japan delicious, but they are also a wonderful way to connect with Japanese culture. Observe the stunning attention to detail of a traditional kaiseki style banquet meal, or watch chefs in action as they prepare your meal, explaining each step. Check out these kosher dining experiences in Japan and immerse yourself in Japanese culture!