Filters
Host Donations (high to low)
Newest First
Price (low to high)
Price (high to low)
Rating
Number of Reviews
Tailor-Made Tours
Can't find what you're looking for? We can plan a custom-made food experience or itinerary just for you.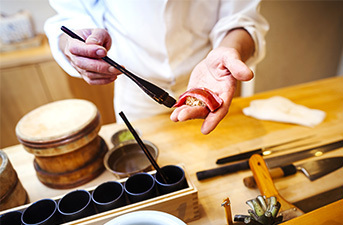 Halal Dining Experiences in Japan
Millions of people from all over the world visit Japan every year, and maintaining a high level of hospitality requires making accommodations for those who need it. Restaurants in Japan are continuing to improve in this area. When traveling abroad, finding halal food might be a problem for those of the Muslim faith whose lifestyle includes the halal diet. While there are some certified halal restaurants in Japan and other establishments with halal food options, it is still not exactly easy to find halal dining experiences in Japan. Searching for Muslim-friendly restaurants on your own might be a challenging or frustrating experience, so leaving it to a professional might be a good choice for you. Browse among byFood's halal dining experiences in Japan and find the most suitable one for your trip to Japan. Enjoy a meal featuring halal wagyu beef, a kaiseki cuisine experience in Kyoto, and more! You won't miss out on a thing with these halal dining experiences in Japan!