Filters
Host Donations (high to low)
Newest First
Price (low to high)
Price (high to low)
Rating
Number of Reviews
Tailor-Made Tours
Can't find what you're looking for? We can plan a custom-made food experience or itinerary just for you.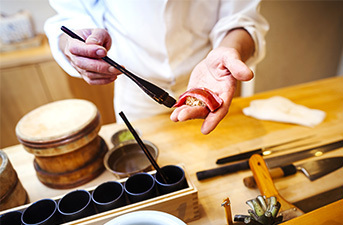 Vegan Dining Experiences in Japan
Japan might seem like a good choice for vegan travelers, but finding vegan food might be a little bit challenging if you aren't familiar with Japanese food, as Japan's cuisine is mainly based on fishery products and there is little awareness of diets like vegetarian and vegan in Japan. You might order a salad but it may be served with an egg on top, or you might find out that your miso soup is made with a "dashi" soup base of katsuobushi (fish flakes), after you've already finished the bowl. Katsuobushi is used in so many Japanese dishes and vegan dashi (made with mushrooms or seaweed instead of fish flakes) is less common. Professional help is a huge bonus if you want to stay vegan in Japan. Hunting down those few restaurants where you can enjoy a special meal as a vegan may be difficult for you, but joining one of byFood's vegan dining experiences in Japan is an easy solution. Just because you stick to a plant-based diet doesn't mean you'll have to miss out on any aspect of your Japan trip! Browse these vegan dining experiences in Japan, from upscale kaiseki dining to themed restaurants, and make delicious memories in Japan while immersing yourself in Japanese culture.