Filters
Host Donations (high to low)
Newest First
Price (low to high)
Price (high to low)
Rating
Number of Reviews
Tailor-Made Tours
Can't find what you're looking for? We can plan a custom-made food experience or itinerary just for you.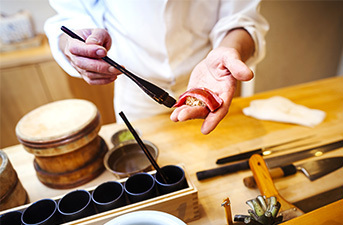 Pescetarian Dining Experiences in Japan
If you are a pescetarian with a love of seafood and a plant-based diet, then Japan is a wonderful country to visit! As a country surrounded by water, the archipelago of Japan offers you an endless fish and seafood to suit your diet and your palate. Being a pescetarian, you'll have many more food options than vegetarians and vegans, and shouldn't concern yourself too much with finding food options, especially in cities like Tokyo, Osaka, and Kyoto.
But while the Japanese diet includes lots of fish, Japan also consumes plenty of meat and is famous for wagyu (high-quality, domestic Japanese) beef. Some dishes may seem vegetarian, but include a small amount of meat, or hidden ingredients (like in broth). Pescetarians in Japan need to be especially careful when ordering ramen, as the broth is often meat-based. As there are not many people with dietary restrictions in Japan, there is less knowledge about diets like the pescetarian diet. That's where byFood's pescetarian dining experiences in Japan come in. If you want to be totally sure of what's being served at the table, you can join dining experiences such as a sushi dining experience such as a sushi making show, kaiseki cuisine banquet-style meal, or izakaya dinner. These pescetarian dining experiences in Japan are fun ways to immerse yourself in Japan culture, enjoy yourself, and come away with a fully belly.