Filters
Host Donations (high to low)
Newest First
Price (low to high)
Price (high to low)
Rating
Number of Reviews
Tailor-Made Tours
Can't find what you're looking for? We can plan a custom-made food experience or itinerary just for you.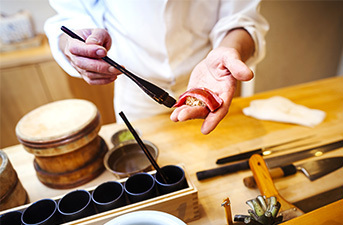 Gluten-Free Dining Experiences in Japan
Eating gluten-free in a country where many dishes contain soy sauce and miso paste (some of which is made with grains like barley) might seem difficult, but it is definitely not impossible. In Japan, food is usually served with rice. As rice does not contain gluten, you can feel free to eat rice at any restaurant, but be extra careful when you eat sushi as you'll want to avoid soy sauce.
If you don't want to worry about all these details, join one of gluten-free dining experiences in Japan and get the most out of your trip by trying mouthwatering Japanese food! If you have a gluten intolerance, Celiac disease, or simply want to cut out wheat products, byFood's gluten-free dining experiences in Japan will make your life easier and your trip to Japan more delicious! From kaiseki cuisine to themed restaurants, check out these tasty dining experiences in Japan. Finding delicious gluten-free food in Japan should not tire you out before you even begin your journey! These gluten-free dining experience prove that you can still enjoy Japanese food even if you can't eat gluten.