The enchanting city of Kyoto is a tapestry of ancient traditions, stunning temples, and exquisite cuisine. Embark on a Kyoto food tour and tantalize your taste buds with the sights, smells, tastes, and sounds of this gastronomic paradise!
Filters
Host Donations (high to low)
Newest First
Price (low to high)
Price (high to low)
Rating
Number of Reviews
Tailor-Made Tours
Can't find what you're looking for? We can plan a custom-made food experience or itinerary just for you.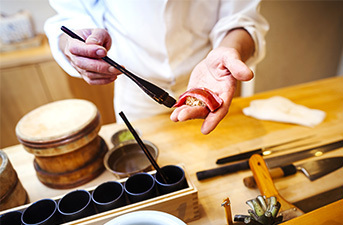 Frequently Asked Questions
What is a Kyoto food tour?
A Kyoto food tour is an immersive experience where you can explore the culinary delights of Kyoto. It involves visiting various local food spots, trying traditional dishes, and learning about the history and culture behind the food. It's like a mouthwatering adventure that takes you through the heart and soul of Kyoto's gastronomy.
What Can I Expect From a Kyoto Food Tour?
Expect an engaging journey filled with flavors and aromas to enchant your taste buds. A Kyoto Food Tour will allow you to try authentic dishes like kaiseki (traditional multi-course meal), sushi, tempura, matcha desserts, and more. You'll also learn about the ingredients, cooking techniques, and cultural significance of each dish from knowledgeable local guides.
How Long Does a Kyoto Food Tour Last?
It varies depending on the type of experience; however, typically you can expect a Kyoto Food Tour to last anywhere from 1 hour to 3 or 4 (if visiting multiple locations). This timeframe allows you to savor a variety of dishes, visit different food spots, and also learn about the cultural significance of the food.
Are Kyoto Food Tours suitable for Vegetarians or People With Dietary restrictions?
Yes! There are plenty of Kyoto Food Tours that cater to dietary restrictions, including vegetarian and vegan. On the listing page, you can filter experiences by selecting your dietary restriction and applying the filter to see all the experiences that fit your needs. It's also advised to inform the tour operator (host) in advance, and they will usually do their best to accommodate your preferences–keep an eye out for this information in the 'Remarks' section on the experience page.
Can I Customize a Kyoto Food Tour to My Preferences?
Yes, you can fully customize your Kyoto Food Tour experience based on your preferences. Using the search bar and filters, you can select from a range of options to narrow down an Osaka Food Tour experience that's perfect for you.
How Do I Book a Kyoto Food Tour?
First, use the search bar and filters to find a specific experience. Then, select the date for the experience and the number of participants. Add extra information–such as dietary restrictions–in the additional notes section. Then, make the payment. If the host has set the experience to 'Instant Confirmation,' the booking will be confirmed automatically. If the host has set the experience to 'Manual Confirmation,' the host will either confirm or reject your booking. You'll likely receive a reply within one business day. After confirmation, you will receive detailed meeting instructions and access info.
What Should I Wear and Bring for a Kyoto Food Tour?
This will vary depending on the type of experience. However, good walking shoes and comfortable clothing are usually a safe bet.
Food Tours in Kyoto
Kyoto is a city where the past and present intertwine like the flavors in a perfectly crafted dish. Kyoto is home to breathtaking temples, serene gardens, captivating traditions, and a culinary wonderland that will leave your taste buds dancing with delight. From delectable street food to exquisite kaiseki dining experiences, Kyoto offers a gastronomic journey that is as rich in flavor as it is in history. And what better way to explore the city's culinary treasures than by joining a Kyoto food tour? Grab your chopsticks, loosen your belt, and embark on a mouthwatering adventure to hunt down the best food in Kyoto!
Kyoto Cuisine
Kyoto is a city that wears its history proudly, and its food is no exception. Traditional Kyoto cuisine–known as Kyo-ryori–is deeply rooted in centuries-old traditions and reflects the delicate artistry and attention to detail that define the city. Each dish is a harmonious blend of seasonal ingredients, meticulously prepared and presented to showcase the essence of Kyoto's culinary heritage. Tantalize your taste buds with flavors that have been perfected over generations with a food tour in Kyoto. "What makes a Kyoto food tour so special?" Besides indulging in various delicious dishes, these tours offer a captivating journey through Kyoto's history, culture, and culinary traditions. As you wander through the narrow streets, accompanied by knowledgeable guides, you'll sample mouthwatering food and gain insight into the stories and legends that have shaped Kyoto's culinary identity. It's like a delicious crash course in Kyoto's past, served one bite at a time!
Kyoto Street Food
In a city with so many bites to offer, where to start? Some of the best food in the city can be found after dark with a Kyoto night food tour to sample some street food–one of the highlights of Kyoto's food scene. As you explore the city, you'll encounter lively food stalls and markets, offering a wonderland of flavors and aromas that will have you salivating. From savoring piping hot takoyaki (doughy octopus balls), to biting into a crispy yuba (tofu skin) tempura, Kyoto's street food is a feast for all your senses. And on a food tour, you'll have the opportunity to navigate this culinary wonderland with a provincial guide who knows all the hidden gems and best-kept secrets of the street food scene.
Kaiseki in Kyoto
If we're talking Kyoto-famous food, we have to start with the refined elegance of kaiseki–the pinnacle of Kyoto dining experiences. Kaiseki is a multi-course meal that takes you on a gastronomic journey, presenting a carefully curated selection of seasonal ingredients and flavors. Each dish is a work of art, meticulously crafted to please both the eye and the palate. During a Kyoto food tour, you might have the chance to experience kaiseki at a traditional ryokan or a modern restaurant, where you'll witness the masterful skills of the chefs and the exquisite beauty of the dishes. It's a culinary experience that will transport you to a world of refinement and perfection.
Nishiki Market
Kyoto's food tours also provide an excellent opportunity to explore the city's vibrant markets and discover local ingredients. The Nishiki Market, also known as "Kyoto's Kitchen," is a bustling hub of activity where you can wander through narrow aisles filled with fresh produce, regional specialties, and unique ingredients. Your guide will introduce you to the local vendors, share stories about the ingredients, and even teach you how to select the best ingredients for your culinary creations. It's a food lover's paradise and a chance to dive deep into the heart of Kyoto's culinary culture.
When choosing a Kyoto food tour, you're spoiled for choice. A variety of tour operators cater to different tastes and preferences. Some tours focus on specific neighborhoods or food themes, while others offer a broader exploration of Kyoto's culinary delights. So whether you're a street food enthusiast, a history buff, or a curious epicurean, there's a food tour in Kyoto that will cater to your every craving.
If you're looking for the best food tour in Kyoto, look no further. Kyoto is a city that will capture your heart through its history, beauty, and its incredible food. A food tour in Kyoto is not just a chance to indulge in mouthwatering dishes, but also an opportunity to delve into the city's captivating past and immerse yourself in its cultural tapestry. So pack your appetite, bring your sense of adventure, and let one of our Kyoto food tours take you on the journey of a lifetime. Itadakimasu!
Find More from Japan