Filters
Host Donations (high to low)
Newest First
Price (low to high)
Price (high to low)
Rating
Number of Reviews
Tailor-Made Tours
Can't find what you're looking for? We can plan a custom-made food experience or itinerary just for you.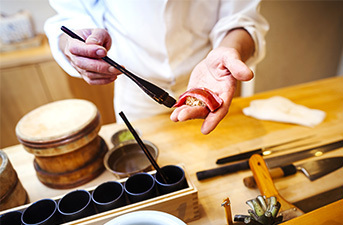 Vegetarian Food Tours in Kyoto
Kyoto is known for its delicious vegetables, so it's no wonder that vegetarian food in Kyoto is absolutely exquisite! If you really want to get to know the city or get to know different regions like a true local, you can do this all on a vegetarian itinerary by joining one of our food vegetarian food tours in Kyoto. We can take you to taste the best vegetarian treats down at Nishiki Market or you can enjoy delicious local drinks such as Uji matcha tea and local Japanese sake matched with a vegetarian menu. There are plenty of vegetarian food tours in Kyoto that can tickle your fancy, if you're a culture buff or a fine foodie fanatic.
Vegetarian food tours in Kyoto are a great way to learn about local history and culture, eating delicious vegetarian food as you go! Your guide can introduce you to local Kyoto produce and Kyoto cuisine, known as Kyo Ryori, as well as (Shojin Ryori), the Japanese Buddhist cuisine which originated in Kyoto. You can enjoy the best and more beautiful seasonal dishes made using vegetarian-friendly ingredients by joining one of our vegetarian food tours in Kyoto. Vegetarian Japanese food can be delicious and healthy, so jump in and find out more here on byFood!