Tailor-Made Tours
Can't find what you're looking for? We can plan a custom-made food experience or itinerary just for you.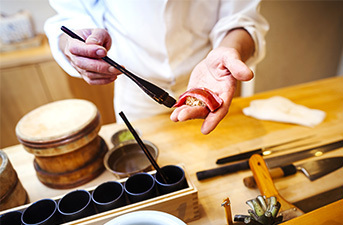 Kaiseki Restaurants in Kyoto
In Japan's capital city of art and culture, traditional kaiseki cuisine is said to have been born in Kyoto. Exquisite kaiseki eaten at one of the best kaiseki restaurants in Kyoto is an amazing experience for those who want to soak up Japanese food and culture as they leisurely dine. Made from multiple courses, a kaiseki meal is made up of different components, where each dish reflects a different style of traditional Japanese cooking. For example, a kaiseki meal will have a steamed dish, as well as a deep-fried dish and a raw dish of fresh local vegetables or sushi, to add contrast. The list goes on. One of the things that make kaiseki in Kyoto special is that they use locally-produced vegetables and produce, known as "Kyoto yasai" or "Kyo-yasai."
With creativity and the value of craftsmanship running at the city's core, dining at an authentic kaiseki restaurant in Kyoto is an unforgettable culinary experience for locals and visitors alike. A meal that is compiled of dishes made with skill, quality ingredients, and diverse cooking methods; enjoy the artistry of each dish, presented perfectly, using ingredients and aesthetics from seasonal harvests. The tranquil atmosphere of kaiseki restaurants in Kyoto is enhanced by impeccable hospitality from staff and qualified chefs. Kaiseki at a Michelin-starred restaurant in Kyoto, however, is something else on a whole other level.
Depending on what kind of Kyoto dining experience you would like, you can enjoy kaiseki in the downtown area, overlooking the city's streaming rivers, or at a humble, traditional Japanese restaurant. Immersive and atmospheric, at intimate restaurants trained professional chefs prepare different elements in front of you as you dine. Enjoy a combination of art, local seasonal harvest, and quality food culminating in delicious dishes; make a reservation at a special Kyoto kaiseki restaurant on byFood, before your trip to Kyoto.
Frequently Asked Questions
How to reserve kaiseki restaurants in Kyoto?
You can directly call a kaiseki restaurant in Kyoto to make a reservation. However, there is the possibility that the language barrier will occur which makes this process difficult. To ensure that you are able to successfully reserve an unforgettable kaiseki dining experience, you can use an online booking platform that helps foreigners to reserve seats at restaurants. On platforms like byFood you can filter different kaiseki restaurant options, depending on where in Kyoto you would like to eat and what type of experience you are after. Once you have narrowed down the restaurant you would like to reserve, simply add in your reservation details into the restaurant page. ByFood will take care of the rest and speak to the restaurant on your behalf, sending through a confirmation email if the reservation is successful. If in the event that the reservation is unsuccessful, you will receive a failed reservation email.
Is a reservation required for kaiseki restaurants in Kyoto?
Yes, usually a reservation is required at a kaiseki restaurant in Kyoto. However, in some cases, a reservation is not required, but this depends on the restaurant. Always, the safest option is to reserve ahead of time to ensure a quality kaiseki experience and get the dates that you want.
What is the average cost of a meal at kaiseki restaurants in Kyoto?
Kaiseki restaurants in Kyoto average at about 15,000 yen per person for dinner. Cheaper options are available for under 10,000 yen, depending on the restaurant, while you can expect to pay an average of 3000 yen to 4000 yen for lunch.