Filters
Host Donations (high to low)
Newest First
Price (low to high)
Price (high to low)
Rating
Number of Reviews
Tailor-Made Tours
Can't find what you're looking for? We can plan a custom-made food experience or itinerary just for you.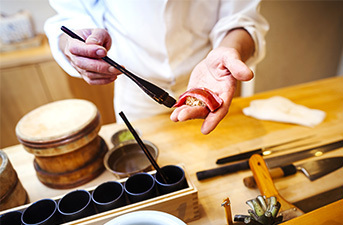 Vegan Food Tours in Kyoto
The exquisite culinary traditions of Kyoto have always capitalized on high-quality local produce that's grown in the greater Kyoto region. By using fresh ingredients, Kyoto's elegant cuisine is created with emphasis on natural flavors and textures inherent in the food while also aiming to celebrate the seasons. This means that there are a lot of vegan food options in Kyoto, as many local dishes like wagashi candies and locally renowned tofu are inherently made from plant products. Japan's former capital is also home to Shojin Ryori, the plant-based Buddhist cuisine. So, especially if you're a vegan person, one of the best ways to explore Kyoto and discover the amazing vegan food it has to share is by booking one of our delicious vegan food tours in Kyoto.
Find yourself wandering through the cobbled streets of Gion, stopping off for a traditional tea ceremony with vegan sweets. Or, taste vegan street food in the bowels of Nishiki Markets! You can learn about the rich food culture of Kyoto including delicious ingredients used to make fantastic vegan dishes as you discover the best districts in the city. Vegan food tours in Kyoto can take you to explore ancient temples and shrines, as well as local foodie markets and hidden back alleyways. Even if you're vegan, you can enjoy the best and most delicious offerings of healthy and creative food by checking out our vegan food tours in Kyoto!