Filters
Host Donations (high to low)
Newest First
Price (low to high)
Price (high to low)
Rating
Number of Reviews
Kyoto Kitcho: Moon-viewing Special Set Dinner Course
Experience Tsukimi (moon-viewing) festivities & a dinner cruise experience aboard an elegant yakatabune in Arashiyama. This exclusive tour includes a luxurious meal by Kyoto Kitcho, traditional Japanese performances & more. Limited availability!
Tailor-Made Tours
Can't find what you're looking for? We can plan a custom-made food experience or itinerary just for you.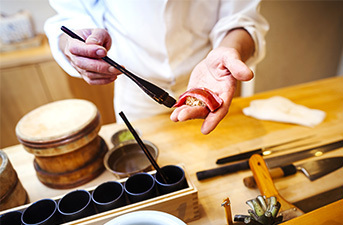 Halal Dining Experiences in Kyoto
If you prefer to eat halal or strictly follow halal dietary restrictions, the good news is that you can still enjoy the best of Kyoto's exquisite cuisine! Our halal dining experiences in Kyoto are held in a range of restaurants throughout the region, serving up quality local food with delicious halal options. More halal restaurant options are certainly on the rise, but for now, finding halal food in Japan proves to be a little challenging, particularly if you don't know where to go. Don't miss out on the beautiful cuisine of Kyoto, you can enjoy the best of Kyo Ryori that's Muslim-friendly with our halal dining experiences in Kyoto!
With delicious dishes made using halal ingredients, you can experience quality local food in Kyoto without having to worry. Our inclusive foodie experiences range from tempura restaurant experiences to fancy kaiseki dinners, featuring delicious halal menu options readily available for you. Jump in and book one of our halal dining experiences in Kyoto to enjoy an unforgettable meal, enjoy the finest local flavors and textures with the added bonus of peace of mind.