Filters
Host Donations (high to low)
Newest First
Price (low to high)
Price (high to low)
Rating
Number of Reviews
Gion Tour with Kaiseki Meal in Kyoto at Night
In the geisha district of Kyoto, join a local guide as you stroll the cobbled streets and take in the atmosphere and local history. After learning about Kyoto's culture and the role of geisha, sit down to an elegant, multi-course kaiseki dinner.
(5)
Kyoto Kitcho: Moon-viewing Special Set Dinner Course
Experience Tsukimi (moon-viewing) festivities & a dinner cruise experience aboard an elegant yakatabune in Arashiyama. This exclusive tour includes a luxurious meal by Kyoto Kitcho, traditional Japanese performances & more. Limited availability!
Tailor-Made Tours
Can't find what you're looking for? We can plan a custom-made food experience or itinerary just for you.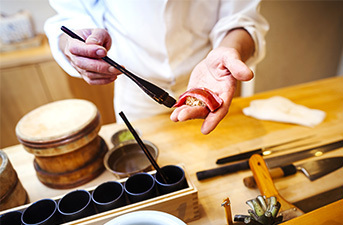 Vegan Dining Experiences in Kyoto
The classic cuisine of Kyoto is creative, seasonal, and largely made up of many plant-based ingredients. Locally-grown products feature in typical Kyo Ryori or Kyoto cuisine, with many of the dishes being inherently vegan or easily adaptable. Still, Japanese food is commonly founded on a lot of fish-based products, but there are plenty of restaurants that sell vegan versions of classic dishes using protein sources such as tofu. Everyone can enjoy this exquisite cuisine, so gather your friends (vegan or not) and join one of our vegan dining experiences in Kyoto. You can indulge in a classy vegetable degustation or enjoy a humble meal of Buddhist cuisine, known as Shojin Ryori. There are so many options when it comes to vegan dining experiences in Kyoto, so let us do the work for you. Check out our restaurants that have vegan menus here on byFood, for a meal that you will never forget!