Filters
Host Donations (high to low)
Newest First
Price (low to high)
Price (high to low)
Rating
Number of Reviews
Handmade Buckwheat Soba Noodle & Kakiage Tempura Class
Traditional Japanese food-making class with an expert chef. Learn soba techniques. Use classical tools and cook. Cut buckwheat noodles and vegetable tempura to make a delicious soup. Prepare your own tasty fried topping in an Asakusa classroom.
Tempura Udon and Gyoza Cooking Experience in Tokyo Home
Tempura udon and gyoza are a match made in culinary heaven. Learn how to make these iconic Japanese dishes at a home cooking class in Tokyo. Once you've mastered these dishes, enjoy your meal and take home a recipe booklet at the end.
(2)
Tailor-Made Tours
Can't find what you're looking for? We can plan a custom-made food experience or itinerary just for you.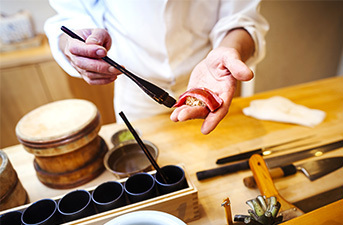 Tempura Cooking Classes in Tokyo
Crispy, crunchy, and carb-y, what's not to love about deep-fried Japanese tempura? Join a tempura cooking class in Tokyo and learn how that impossibly light, impeccably crispy tempura batter is made (there's a secret trick to it). With ingredients that are easily accessible worldwide, you too can make perfect tempura in your own home kitchen. Get tips and tricks from local cooking instructors, and fry up all manner of delicious goodies, from shrimp to sweet potato during these tempura cooking classes in Tokyo. Make a medley of colorful, delicious battered and fried foods, which pair perfectly with udon, soba, or even a bowl of rice! With its delicate crunch and non-greasy lightness, tempura is a Japanese food that's irresistibly tasty, and pairs amazingly well with rice, udon, or soba. And after the tempura cooking lesson, you can take home the recipe and recreate it for your friends and family!