Filters
Host Donations (high to low)
Newest First
Price (low to high)
Price (high to low)
Rating
Number of Reviews
Discover Otaru: Town Tour, Seafood, Sake, & More (Hokkaido)
Meander through Otaru, an age-old trading town in Hokkaido. Explore Otaru Canal, meander through Sakaimachi Street's quaint alleys, discover the Triangular Market (seafood & produce), enjoy a fresh seafood bowl, & take part in a sake tasting.
Local Wine Tour and Tasting in Hokkaido
Experience sophisticated wine and delicious ice cream by visiting Housui Winery in Iwamizawa and Maoi Distillery in Naganuma and enjoy beautiful views overlooking the Ishikari Plain.
Tailor-Made Tours
Can't find what you're looking for? We can plan a custom-made food experience or itinerary just for you.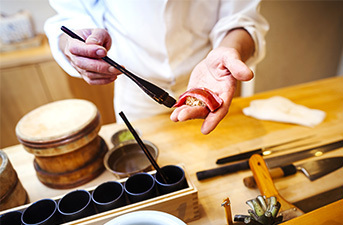 Hokkaido Whisky Tours
Whisky buffs, take the edge off! Step into the world of Japanese whisky from the Hokkaido region and beyond. Made from fertile soils and the purest waters flowing through Japan's northernmost island, Hokkaido is home to one of Japan's biggest whisky makers, Sapporo beer, and other delicious craft whiskies. With its location and climate similar to Scotland, Hokkaido's diverse landscape provides great conditions for high-quality whisky production. That means some of the best whiskies in Japan are proudly produced here, including Japan's very own take on Scotch whisky. You can discover everything about Japanese whisky from ingredients to production during a Hokkaido whisky tour, and enjoy whisky tasting samples straight from the source. From single malts to blended whiskies, taste and compare different flavors and batches during a whisky tour in Hokkaido, and take the chance to discover your new favorite at local bars or distilleries. Join a local Hokkaido whisky tour during your next trip Hokkaido, also famous for its high-quality seafood and incredible local Japanese cuisine.