Filters
Host Donations (high to low)
Newest First
Price (low to high)
Price (high to low)
Rating
Number of Reviews
Tailor-Made Tours
Can't find what you're looking for? We can plan a custom-made food experience or itinerary just for you.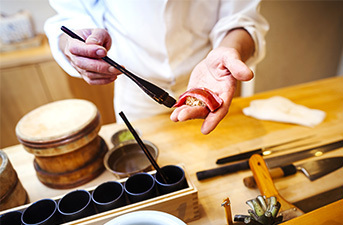 Vegetarian Tastings in Japan
Are you worried about being a vegetarian in Japan? If you are, your concerns are valid, as the Japanese cuisine is based on fish and seafood, and there is very little awareness about alternative diets such as vegetarian, vegan, gluten-free, halal, and kosher. Thankfully, due to globalization these ideas have been spreading, and restaurateurs and those in the hospitality industry are becoming more knowledgeable and accommodating. ByFood offers a range of vegetarian food experiences, like vegetarian tastings in Japan. During tasting experiences, your taste buds will travel across Japan with the flavors of Japanese tea from Shizuoka and Kyoto, sake from Hiroshima, and whisky from Kagoshima. Browse and book vegetarian tastings in Japan right here, and take a gastronomic journey.