Filters
Host Donations (high to low)
Newest First
Price (low to high)
Price (high to low)
Rating
Number of Reviews
Tokyo Tea Tasting: 12 Types of Matcha, Sencha, & Gyokuro
Experience a taste of Japan in Tokyo with a certified Tea Advisor who will introduce the origins & preparation of 12 types of tea. Learn about sencha, matcha, & gyokuro tea & the diverse regions they come from in an immersive tasting session.
Flavors of Japan Food Tour with Wagashi
This Tokyo food tour features 8 stops, showcasing the variety of Japan's regional and seasonal foods. From the oldest and most expensive fruit store in Japan to a handmade Japanese sweets shop, you'll witness the diversity of Japanese food culture.
(3)
Tasting and Comparing Seven High Quality Japanese Teas
Escape the hustle and bustle of Tokyo life with this tea-tasting experience! Taste seven different types of Japanese tea, including gyokuro, and enjoy complimentary Japanese sweet pairings. You will definitely feel relaxed after this experience!
Tailor-Made Tours
Can't find what you're looking for? We can plan a custom-made food experience or itinerary just for you.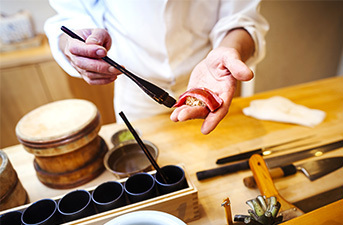 Matcha and sencha and kocha, oh my! There's no food or drink more central to Japanese culture than tea, and there are way more varieties of tea in Japan than just plain old green tea.
For centuries this beverage has been at the very center of traditional Japanese hospitality, with a whole zen-inspired culture surrounding the process of brewing and serving it. In fact, having a cup of tea in Japan is often more akin to meditation than sipping on your average cafe cuppa!
Join a
tea tasting in Japan
and discover the wonders of Japanese tea. You'll find out tips about how to brew the perfect cup of tea, learn about the various types of tea made in Japan, and taste a range of domestic teas for yourself! Alongside a Japanese tea expert, you'll get to ask all your burning questions and listen as your guide spills the tea (but not literally). These
tea tastings in Japan
will give you insights into the history of tea and its place in Japanese culture today, from the
traditional tea ceremony
to the simple cups that are enjoyed in the comfort of one's own home. You may also discover your new favorite type of tea during one of these
Japanese tea tastings
! Many tea tastings are also paired with
wagashi
, so you can enjoy a bite of something sweet to accompany a foamy cup of matcha.
But don't expect to pull off all the proper historic procedures by yourself the first time — Japanese tea ceremony masters study their art for decades, so it's better to put yourself in the hands of one of these well-trained connoisseurs. That's why a tea tasting experience in Japan is the perfect way to immerse yourself in this ancient culture.
You'll have the chance to watch and try the traditional methods of brewing, sample some premium leaves from around Japan, and soak yourself in the centuries of history which are poured into each and every cup. In addition to joining one of these Japanese tea tastings, why not hop on a farm tour experience to get to the literal roots of this prestigious Japanese drink?
Find More from Japan