Filters
Host Donations (high to low)
Newest First
Price (low to high)
Price (high to low)
Rating
Number of Reviews
Taste Seven Traditional Japanese Sake in Shinjuku
Through this experience, your guide will teach you about Japan's relationship with sake throughout its history and culture, serve 7 different sakes, and explain how each sake is prepared, should be enjoyed, and which foods have complimentary tastes.
Paint & Sip: Japanese-Themed Painting & Umeshu (Tokyo)
Unleash your creativity with a drink in hand at a paint & sip session on Cat Street in Harajuku (Tokyo)! You'll paint a Japanese-themed artwork, enjoy sparkling umeshu (plum wine), socialize, & make memories to last a lifetime.
Tailor-Made Tours
Can't find what you're looking for? We can plan a custom-made food experience or itinerary just for you.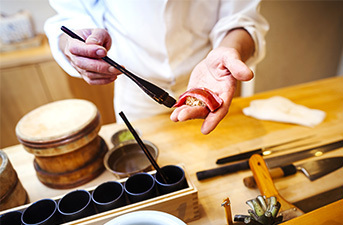 Halal Tastings in Japan
If you're in Japan and trying to maintain a halal diet, you might be concerned about how your dietary needs will affect your trip. Maybe you think that you won't be able to enjoy Japanese food and drinks or truly experience Japanese culture through the cuisine. And while Japan is becoming more and more inclusive of the needs of foreign visitors, there are still a limited number of halal restaurants in Japan, most of them in cities like Tokyo that have a higher population of Muslims. ByFood offers a variety of halal food experiences, including halal tastings in Japan, that are perfect for Muslim visitors who want to maintain their diet.
Usually, tastings are centered on alcoholic beverages, like Japanese whisky and sake, but if you are maintaining a halal diet in Japan, you can still enjoy non-alcoholic tasting experiences like Japanese tea tastings. Japanese tea is an enormous category that includes a range of different tea types such as matcha, sencha, genmaicha, hojicha, and more. With the guidance of tea experts, you can become a tea aficionado during a halal tasting in Japan, or explore other food experiences in Japan!