Filters
Host Donations (high to low)
Newest First
Price (low to high)
Price (high to low)
Rating
Number of Reviews
Tailor-Made Tours
Can't find what you're looking for? We can plan a custom-made food experience or itinerary just for you.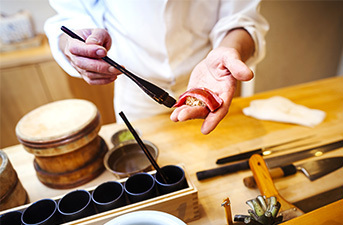 Gluten-Free Tastings in Japan
Whether your avoidance of gluten is due to celiac disease or a matter of choice; choosing the gluten-free diet comes with challenges. Needless to say, the search for a suitable dish becomes even more difficult if you are planning a trip abroad and struggling to stay gluten-free in Japan. If you're not familiar with Japanese food, the many wide array of unpronounceable dishes on the menu quickly becomes intimidating. A few tips about being gluten-free in Tokyo: bring your own gluten-free soy sauce, rice is your friend, and not all soba (buckwheat noodles) are gluten-free. Aside from that, if you really want to be sure that your food and drinks are all gluten-free, then leave it to the experts and explore these gluten-free tastings in Japan!
Are you a fan of drinks? Be it green tea or Japanese whisky or sake, you can try a variety of drinks during byFood's gluten-free tastings in Japan. Book now to visit sake breweries or learn all about the art of mixology in Tokyo's thriving capital city! Don't worry about those pesky wheat products, during these gluten-free tastings you'll become an expert in your drink of choice!