Filters
Host Donations (high to low)
Newest First
Price (low to high)
Price (high to low)
Rating
Number of Reviews
Tailor-Made Tours
Can't find what you're looking for? We can plan a custom-made food experience or itinerary just for you.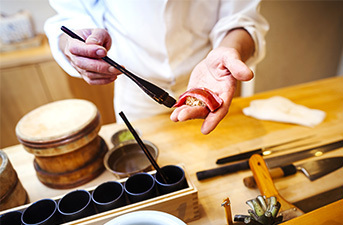 Vegan Tastings in Japan
Admittedly, Japan isn't the most vegan-friendly country in the world. Japanese food is often centered around fish and seafood products, and many Japanese people are not aware of diets like veganism and vegetarianism. It can be quite a challenge to find vegan options in Japan, outside of areas like Tokyo. In big urban areas, a few vegan restaurants have been emerging, but many of them mainly serve Western-style cuisine rather than Japanese fare. Thankfully, there is a tradition of plant-based eating in Japan, with cuisines such as Shojin Ryori, the Buddhist vegetarian cuisine, still alive today. ByFood offers a range of vegan tastings, cooking classes, food tours, and dining experiences, to suit your dietary needs. And this extends to drinks as well. Enjoy vegan tastings in Japan and sample Japanese sake, Japanese whisky, tea, and more! Discover more about Japanese culture through the food, and immerse yourself in a culinary experience where you can become an expert in your favorite Japanese beverage. With the guidance of local specialists, these vegan tastings in Japan are intended to give you insight into Japanese traditions and culture.