Filters
Host Donations (high to low)
Newest First
Price (low to high)
Price (high to low)
Rating
Number of Reviews
Tokyo Bars and Mixology with Whisky, Sake, and Food Pairings
Experience the best of Tokyo nightlife with an expert-guided tour of the bars of Shinbashi and Ginza. Learn about whisky, sake, and food pairings, as well as Japanese drinking etiquette and customs.
(2)
Tailor-Made Tours
Can't find what you're looking for? We can plan a custom-made food experience or itinerary just for you.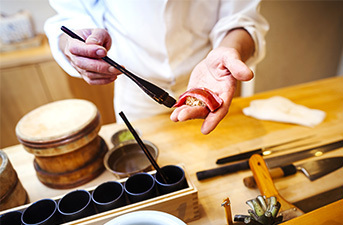 Japanese Whisky Tastings in Japan
One of Japan's favorite beverages is no doubt Japanese whisky. Enjoyed neat, on the rocks, mizuwari (with water), or as the popular whisky highball, Japanese whisky is a classic beverage enjoyed in izakaya bars, homes, and restaurants across Japan.
After bursting onto the world whisky scene in style, the best Japanese distilleries are now showing the old guard how it's done. Brands like Miyazaki and Hibiki have started claiming the most prestigious prizes in the industry, and as the prestige of premium Japanese whisky has skyrocketed, so too has the demand — some of the finest bottles are nigh on impossible to get your hands on.
With byFood's selection of whisky tastings in Japan, you'll be able to try some of this fantastic Japanese whisky under the guidance of an expert. You can visit the distilleries directly to see how they work their magic, or just enjoy some laidback glasses of the good stuff at a Tokyo whisky bar with like-minded alcohol lovers.
During a Japanese whisky tasting in Japan, you'll challenge your palate with different varieties of Japanese whisky, possibly even paired with delicious Japanese food. With the guidance of a Japanese whisky expert, you will taste a variety of whisky brands, noting the oaky, malty, spicy, and nutty notes. Learn all about Japanese whisky as you walk through the production steps during a whisky distillery tour or chat with whisky experts as you sniff, swill, and sip from a selection of Japanese whiskies. Many of the world's most famous and in-demand whiskies are from Japanese distilleries and the World Whiskies Awards have recognized many types of Japanese whisky. Whisky lovers, browse these Japanese whisky tastings in Japan. Don't miss out on some of the most delicious and high-quality whisky that Japan has to offer.
Whichever you choose, by the end of your Japanese whisky tasting, you'll see why it's the newest heavyweight in the world of whisky. Who knows, maybe you'll even be ditching your go-to bottle of Scotch for a new Nippon favorite!