Filters
Host Donations (high to low)
Newest First
Price (low to high)
Price (high to low)
Rating
Number of Reviews
Flavors of Japan Food Tour with Wagashi
This Tokyo food tour features 8 stops, showcasing the variety of Japan's regional and seasonal foods. From the oldest and most expensive fruit store in Japan to a handmade Japanese sweets shop, you'll witness the diversity of Japanese food culture.
(3)
Tokyo Bars and Mixology with Whisky, Sake, and Food Pairings
Experience the best of Tokyo nightlife with an expert-guided tour of the bars of Shinbashi and Ginza. Learn about whisky, sake, and food pairings, as well as Japanese drinking etiquette and customs.
(2)
Sake Spectacular: Museum Tour & Tasting in Fushimi (Kyoto)
Join Hiroshi for a private sake tour in Fushimi! Explore Gekkeikan Okura Sake Museum, learn about history, culture, production, & savor samples. With a diverse background, Hiroshi shares Kyoto's charm, while Fushimi's legacy enhances the experience.
Tailor-Made Tours
Can't find what you're looking for? We can plan a custom-made food experience or itinerary just for you.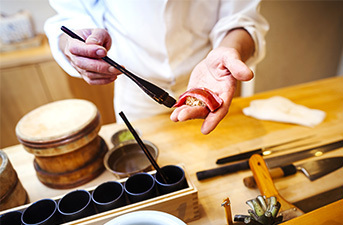 Kosher Tastings in Japan
If you abide by Jewish dietary laws, you may face a few challenges finding kosher Japanese food, but don't worry, you can still enjoy the Japanese cuisine! Food offers a window into the cultures of other countries, and eating is an enjoyable way to immerse yourself in culinary traditions that are foreign to you. On byFood, you can find kosher tastings, food tours, cooking classes, and dining experiences in Japan so you don't have to miss out on any aspect of Japanese culture during your Japan trip.
These kosher tastings in Japan are special experiences where you can become an expert in your favorite Japanese beverage. For example, you can enjoy wagashi alongside Japanese tea tastings, learning about the unique characteristics of each. With specialists there to guide you, these kosher tastings in Japan will teach you all about the history, etiquette, and cultural background of Japan's most celebrated drinks.