Filters
Host Donations (high to low)
Newest First
Price (low to high)
Price (high to low)
Rating
Number of Reviews
Tailor-Made Tours
Can't find what you're looking for? We can plan a custom-made food experience or itinerary just for you.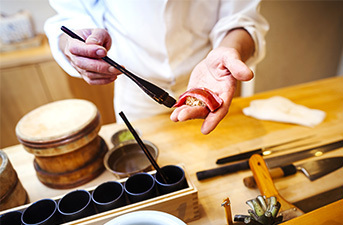 Sake Tastings in Japan
Japan's national beverage, Japanese sake is a must-try beverage when you're visiting Japan. Also known as nihonshu, sake is a fermented rice wine that has been enjoyed for centuries. During a sake tasting in Japan, you can learn all about the production process of delicious sake, from polishing the rice to steaming, making koji and fermenting, and sake pressing and filtering. Made with just rice, water, and koji, Japanese sake seems like a simple beverage, but there are subtle differences in grades of sake and a wide variety of types that vary in complexity and flavor. With insights from a sake expert, you will explore the different types of sake, trying a variety of samples during sake tastings in Japan. Learn all about namazake, the "raw" unpasteurized sake, as well as grades of sake such as ginjo-shu and daiginjo-shu. There are sake tastings in Tokyo, Kyoto, Miyagi and more! Japanese sake tastings will open your mind and perk up your tastebuds!