Filters
Host Donations (high to low)
Newest First
Price (low to high)
Price (high to low)
Rating
Number of Reviews
Tailor-Made Tours
Can't find what you're looking for? We can plan a custom-made food experience or itinerary just for you.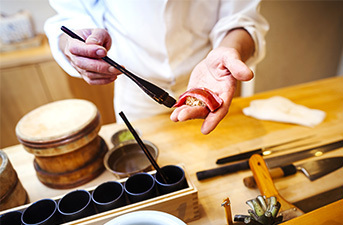 Vegan Food Tours in Japan
The vegan lifestyle is gaining traction in Japan, especially in large cities like Tokyo, but it can still be difficult to find traditional Japanese foods that are vegan. Vegans in Japan might face difficulties due to lack of awareness of the diet or very few options. Thankfully, you don't have to sacrifice your values to enjoy a delicious meal during your Japan trip. Plant-based friends, here you'll find some of the best vegan food tours in Japan.
There are many vegan food tours in Tokyo because of the high concentration of vegan restaurants in Japan's capital. But if you're traveling outside of Japan, you'll also find that there are vegan food tours in Kyoto, Osaka, Hiroshima, Miyagi, and Saitama, to name a few other prefectures. Experience a tea farm tour, traditional tea ceremony, local street food, regional wineries, and more! Vegan food in Japan is becoming more and more accessible, so you can enjoy your favorite Japanese dishes, with just a few substitutions. Explore plant-based food tours in Japan and discover your new favorite Japanese food! On these tours, you'll not only eat delicious food, but also meet locals and fellow travelers, learn about new areas in Japan, and immerse yourself in local culture.