Filters
Host Donations (high to low)
Newest First
Price (low to high)
Price (high to low)
Rating
Number of Reviews
Tailor-Made Tours
Can't find what you're looking for? We can plan a custom-made food experience or itinerary just for you.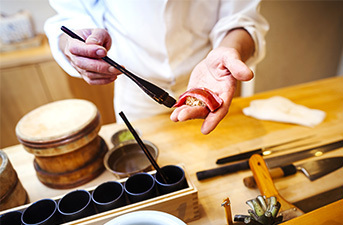 Halal Dining Experiences in Hiroshima
"Halal in Hiroshima" might not be a phrase you hear too often, but halal options are on the rise as tourism sees rapid expansions across Japan. So, are you hitting up Hiroshima but are worried about not having enough halal food when you visit? Don't stress, we have got you covered. Leave all your reservations behind, and book one of our delicious halal dining experiences in Hiroshima! These inclusive foodie experiences span all sorts of restaurants making delicious Japanese food with halal ingredients. Eat with your mind at ease on your next trip the south of Honshu, and enjoy these delicious halal food options for Muslim-friendly halal dining experiences in Hiroshima.
Hankering for some fresh halal sushi, or fancy some halal yakitori chicken skewers? These halal dining experiences in Hiroshima are definitely possible! Maybe you need a sweet fix in Downtown Hiroshima, or want to spend a special occasion somewhere a little bit fancy? We can set you up with exciting dining experiences you will never forget. Browse through Hiroshima's best restaurant experiences serving up quality halal food right here!